If you need any support using this site or courses, please first refer to the frequently asked questions. If you do not find your answer there click the support button in the bottom corner of your screen to open a support ticket where one of our technical team will be happy to help.
WHAT BROWSERS WILL RUN THIS SITE?
To get the best results for this site we recommend that you use the following browsers.
Recommended Browsers
Google Chrome – Latest Version
Mozilla Firefox – Latest Version
Apple Safari – Latest Version
HOW DO I GET MY CERTIFICATE?
Upon successful completion of a course, there will be a button to view your certificate.
To access your certificate click print your certificate. This will open up in a new window as a PDF which is also available to download.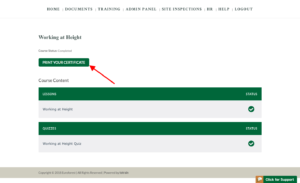 MY USERNAME AND / OR PASSWORD WON'T WORK. WHAT SHOULD I DO?
If you are having trouble logging in you should first double check the username and password you were given to make sure you are typing in the correct details. Please remember that your password is case-sensitive.
There is a button located at the bottom of the login section called "forgot password". If you click that button you will be prompted to enter your username or email address for a password reset. Please note that emails may be sent to your spam folder.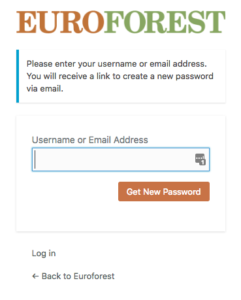 If you are still having issues, then click the support button in the bottom right hand corner of the page.
If you wish to change your password please click the link below:
I CAN'T MARK THE COURSE COMPLETE
If you cannot mark the course complete it may be that you have not completed all of the required slides in the course.
You can check this by going to the menu in the top left of the course player. Open the course menu showing a list of all the slides. If any of these titles are NOT greyed out it means that these slides are incomplete. Please go back and complete these slides and try again.
If the problem still persists please raise a support ticket by clicking on the support button in the bottom right hand corner of the screen.